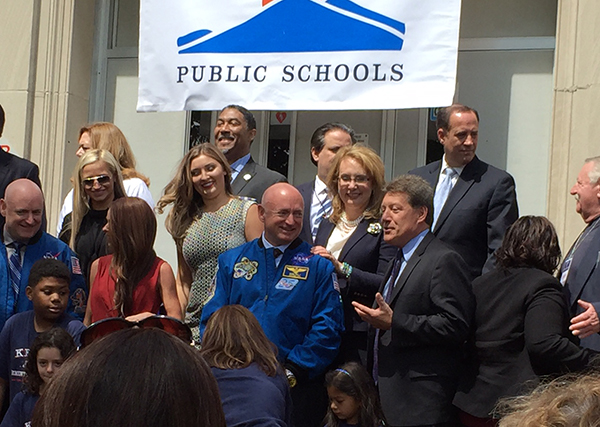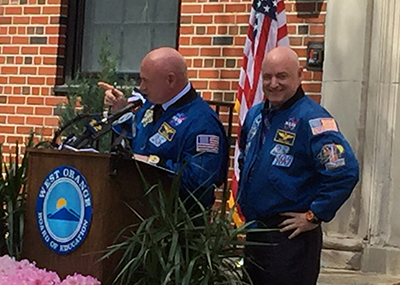 Captain Mark Kelly and Captain Scott Kelly, twin brothers who have served with distinction in the U.S. Merchant Marines, in the U.S. Navy, and as NASA astronauts, were honored by their home town of West Orange, N.J., on May 19, 2016. One of the elementary schools in West Orange, the Pleasantdale Elementary School, was renamed the Kelly Elementary School in honor of Mark and Scott Kelly, who grew up in West Orange. Their father, a retired policeman, still lives in West Orange. The ceremony was attended by several dignitaries, as well as by Dr. Donald James, Associate Administrator for Education at NASA Headquarters. NJSGC representatives Prof. Haim Baruh and Prof. Joseph S. Miles were also in attendance. So were several of the Kellys' grade school teachers.
In the latest NASA task that the brothers undertook, Scott spent 340 days on the International Space Station. His vital signs were monitored closely and compared to that of his identical twin, Mark, to better understand the effects of prolonged stay in space on the human body.
Mark and Scott Kelly continue to be involved with educational activities at West Orange. They have been instrumental in securing NASA funding for establishing a STEM center in nearby Montclair State University.
The picture on top was taken during the renaming ceremony. The two brothers are wearing dark blue jackets. Scott is on the left and Mark is on the right. Behind Mark is his wife, former Arizona congresswoman Gabrielle Giffords.