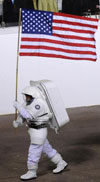 The New Jersey Space Grant Consortium has a large number of interesting programs for students attending college or graduate school in New Jersey. From undergraduate internships to research activities, Space Grant offers you several opportunities to broaden your horizons, give you experience, and prepare you for a successful career in STEM fields and enter the workforce ready to tackle the challenges of the future. NASA, who provides our funding, is very interested in developing tomorrow's work force.
Some of our programs for students are run in conjunction with a faculty member who acts as advisor or main investigator. You need to contact the advisors to participate in these programs. The NJSGC student programs that you can apply to directly are listed below. Please check this page frequently, to see if there are opportunities that are of interest to you.
All NJSGC programs are financially supported by NASA and require direct alignment with one of the six (6) Mission Directorates:  
Please note that by NASA mandate, only U.S. citizens are eligible for support from the New Jersey Space Grant Consortium. Please also note that NASA requests NJSGC to conduct longitudinal tracking. The award recipients will be asked to pledge to provide NJSGC information of their progress and career selection for a period of ten years after the end of the internship. Such information is requested only for statistical purposes, and will be published only in aggregate form. Names of recipients will remain confidential. The data will only be shared with NASA.
Pledge Form (docx form)
All students who receive a fellowship, internship or research award are required to submit final reports, a poster presentation, and a self portrait. Here is the guidance for submitting these requirements. 
1) Final Report Guidance (pdf)
2) Writing Tips Gladwell (pdf)
 
| Name of Program | Description | Status |
| --- | --- | --- |
| | $5,000 fellowships for graduate students in STEM. Requires match by student's institution. | Applications are due in August 2023. |
| | NASA offers several opportunities for students in STEM. These programs are run by NASA and not by NJSGC. | |
| | One or two New Jersey undergraduate or graduate students sent to NASA research centers nationwide. You directly apply to NASA. | |
| | $2,000 internships to undergraduate students to conduct research at their home institutions. Administered as block grants to New Jersey universities, who make their own selections. | Announcements will be made in early September. Please check with the affiliate representative of your academic institution. |
| | 10 week internships at $500/week, for a total of $5,000 per student for conducting research at a N.J. university or industry. Student conference at end of summer. | Summer 2022 will be in-person/remote depending on pandemic restrictions. |
| | Provides funding for summer research in STEM topics at NJ universities. Clusters perform research with students under the tutelage of mentors over the summer. | NJSGC supports research clusters at the following institutions: New Jersey Institute of Technology, Rowan University, Rutgers New Brunswick, Seton Hall, and the College of New Jersey. Contact your academic institution's representative to NJSGC. |
| | Grants (up to $600) for supplies and materials for senior design projects with NASA related themes. | Contact your academic unit's administrators. |