2023-2024 Undergraduate Internships
The application for the 2023-2024 undergraduate Academic Year Internships is now open.
2023-2024 Graduate Fellowships
Haym Benaroya, Distinguished Professor of Mechanical and Aerospace Engineering, Rutgers--New Brunswick "In the Press and On the Air"
Mark Trevena ENG'18: Graduating to Work on Patriot Missile Defense System - During his time at Rutgers School of Engineering, Trevana conducted research under a NASA/NJ Space Grant Consortium Fellowship with Dr. James Luxhøj, the Department of Industrial and Systems Engineering undergraduate director. Read more.
Professor Haim Baruh gives NASA talk in China.
NJSGC Summer 2017 intern Jade Alvarez of Rowan University presented her research in a poster session at the Fall 2018 Space Grant Directors meeting in Stowe, Vt., September 14-16, 2018. Read more.
Three Brookdale Community College students will undertake research projects in the 2018-2019 academic year under the NASA STEM (Science, Technology, Engineering and Mathematics) Internship program. Renato Giordani, Zyanya Flores and Robert Mennella represent the fifth cohort of Brookdale students selected under the program since 2015. Read more.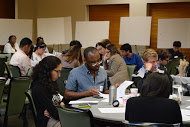 NJSGC sponsors successful workshop on diversity and inclusion for graduate students. On Friday, April 22, 2016, the workshop called "Diversity and Inclusion: Passport to Success for Graduate Students and PostDocs" was held at Rutgers University. Learn more.
Best Paper Award: William Joyce, a Rutgers junior undergraduate recipient of a NASA / New Jersey Space Grant Consortium Internship, and Dr. James Luxhoj co-authored a paper that was selected for the Best Paper Award in the Systems Engineering and Design Track and the upcoming Industrial and Systems Engineering Research Conference (ISERC) in May 2016.
Guidelines for 2016-2017 Airport Cooperative Research Program (ACRP) University Design Competition for Addressing Airport Needs
Guidelines for NASA Climate Change Research Initiative - Graduate Student and Educator
Students Earn $5,000 NASA Internships: Eight of Brookdale's highest achieving science, technology, engineering and mathematics (STEM) students have been selected to work with local experts on a variety of year-long research initiatives and serve as peer tutors at Brookdale as part of an ongoing grant program funded by NASA and the New Jersey Space Grant Consortium (NJSGC). Read more.
Rutgers student Ankur Dalsania publishes paper: first-author paper was published in the Journal of Materials Chemistry C with funding from NJSGC. See http://pubs.rsc.org/en/content/articlelanding/2016/tc/c6tc02552h#!divAbstract
NJSGC intern Matthew Frenkel's research makes cover page of the Journal of Polymer Physics: see article and see cover page.
Our successful community college program: Meet Sarah Schneider of Middlesex County College. See video
Researching summer at Rowan: This NJSGC-supported program drew more than 120 undergraduate students to the Rowan University campus to conduct research for five to 10 weeks in departments as diverse as Chemistry and Biochemistry and Psychology. Read more.
STEM Project Plants Seeds of Inspiration in Local School: This summer, as part of a NJSGC internship, Rhiannon Long of Brookdale Community College decided to show off the creativity and real-world impact of engineering by building an interactive aquaponic system for use in the Neptune, NJ, Middle School. Read more.
August 12, 2013 - Rutgers Today Feature Rutgers' RiSE Gives Students a Taste of the Scientist's Life
RiSE encourages bright undergrads to pursue graduate studies, especially at Rutgers. RiSE is funded in part by a grant from the New Jersey Space Grant Consortium.
Projects funded in part by NJSGC:
Ed Twomey, who will be starting a Ph.D. at Columbia University in Integrated Program in Cellular, Molecular, and Biomedical Studies with a focus on protein structure/dynamics, announced the publication of these papers that were in part funded by NJSGC:
As a result of NJSGC funding, Kimberly Cook-Chennault has announced the publication of these articles: